Sponsor Stories
Warning: A non-numeric value encountered in /home4/eugeneb4/public_html/wp-content/themes/roots-master/templates/page-header.php on line 3

Warning: A non-numeric value encountered in /home4/eugeneb4/public_html/wp-content/themes/roots-master/templates/page-header.php on line 3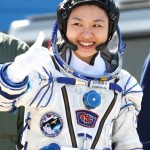 The First Korean Astronaut – Soyeon Yi
I happened to hear about the suffering of tuberculosis patients in North Korea and the efforts of the Eugene Bell Foundation as I was attending church. Among the images and video of patients and life-saving programs that I saw that day, there was one scene that I could never forget.
A North Korean mother had brought her child, a woman just a little older than me, to the treatment center that was providing medicine brought from South Korea. As the daughter leaned against her mother's shoulder, the older woman sobbed and said, "she's spent her whole life as a medical worker, now they can't cure her disease and she's gotten bad like this." Dr. Linton explained that even though the woman was a doctor, she was unable to obtain medical supplies in North Korea. I immediately began to think, "What can I do to help this woman?"
I had thought that I had a tough time putting myself through school, working a part-time job and searching for scholarships, until I saw that woman and had a moment to reflect. In that tough situation, she was able to study medicine, only to catch tuberculosis and suffer from the lack of steady medical supplies that led her disease to mutate into multidrug-resistant tuberculosis. Her struggle amid a complete lack of treatment for a disease made me embarrassed for having claimed that I had a hard time becoming an engineer in South Korea.
As soon as the service ended, I caught up with our pastor and Dr. Linton and asked if there was some way I could help the doctor in North Korea. I found out that the cost of the medicines to treat her MDR-TB added up to almost my entire month's salary. I am ashamed to say that I almost hesitated, but I just kept repeating to myself that if I were in the same situation, my mother would carry me anywhere she could to find medicine, and that I should be very thankful that there was a way to help this woman who would otherwise have no choice but to wait and face her death. In fact, Dr. Linton said he was worried about me, saying that it was possible that this patient might not make it until the next medicine delivery. He worried that such a tragedy might be difficult for me to bear.
I answered that I knew that such a situation was possible, but this patient was someone who could go on to save many more lives if only she were able to recover, that this was someone I simply had to help. I promised myself that I would pray for this woman. My voice may be small, but it is sincere. I hope that our prayers for this patient and for all others who are in need in North Korea may come together.