Sponsor Stories
Warning: A non-numeric value encountered in /home4/eugeneb4/public_html/wp-content/themes/roots-master/templates/page-header.php on line 3

Warning: A non-numeric value encountered in /home4/eugeneb4/public_html/wp-content/themes/roots-master/templates/page-header.php on line 3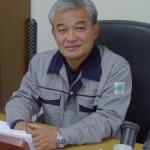 Owner, Burim Components
My company produces components for heavy electrical machinery made by South Korean company LSIS and relays product by Hyundai Heavy Industries.  We have a good business but it consumes much of my time.
I try to be a devout Christian, and it just so happened that one day when I was at church thinking about specific ways to share what I had with my neighbors, I heard about the Eugene Bell Foundation.  I was very impressed with EugeneBell's transparency.  More than anything, I was thankful and I guess a little bit embarrassed that the descendant of a missionary family in South Korea was helping to do something that South Koreans were unable to do themselves…
When it comes to TB patients in North Korea, I think they are in a tough situation, people who have almost been abandoned as hopeless.  Being able to give them medicine, and then see them respond by saying, "Thank you, Burim Components!" really brings tears to my eyes.    I don't think of it like "I donated today," I just set up an automatic payment and forgot about it.  Once every six months, when I get a patient update, I remember that my life, my business and my daily work isn't everything.