Sponsor Stories
Warning: A non-numeric value encountered in /home4/eugeneb4/public_html/wp-content/themes/roots-master/templates/page-header.php on line 3

Warning: A non-numeric value encountered in /home4/eugeneb4/public_html/wp-content/themes/roots-master/templates/page-header.php on line 3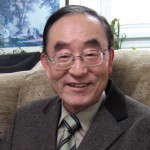 Rev. Myung Hyuk Kim, Chairman, Korea Evangelical Fellowship
Many years ago, I became very close to Stephen and John Linton, the 4th generation descendants of the missionary EugeneBell (1868-1925), who came to Jeolla Province in 1895. Just like their mother, Lois Linton, the Linton brothers have inherited their family's love for the Korean people.
After Dr. Stephen Linton called me from Hong Kong on his way back from North Korea in December of 1995, I encouraged the Korea Evangelical Fellowship to send food to the North through EugeneBell. We sent corn purchased in China as well as agricultural equipment and supplies. Since 1997, the Korea Evangelical Fellowship has also sent medicine and medical equipment for tuberculosis patients through EugeneBell. The total value of food, medicine, and other supplies that we have sent through EugeneBell is ₩1.2 billion, ($1.1 million), and the amount of money that we have spent to support North Korea through other channels has reached more than ₩70 million ($65,000).
The primary reason why the Korea Evangelical Fellowship chose to aid North Korea through EugeneBell for the last fourteen years is the trustworthiness of Dr. Stephen Linton, which I discovered as I have become good friends with him. During my many experiences with different aid organizations, I have found the Eugene Bell Foundation to be the most transparent, personal, and reliable group that assists the North Korean people.
I cherish and respect the EugeneBell missionary family that has poured out their blood, sweat, and tears in their love for Korea. I especially express gratitude to Dr. Stephen Linton, who has sacrificially devoted his life to aiding the North Korean people. Dr. Stephen Linton often says that he is merely like a donkey that carries supplies. He delivers several copies of the list of sponsors' names to the North Korean beneficiaries. Whether the donors are individuals, churches, or social organizations, EugeneBell accurately writes down and sends their names. Just as he always insists, Dr. Linton really is doing his best to fulfill his role as a faithful donkey.
I pray that God's comfort, love, and blessing will continue to pour through the Linton family and wish that our love will be sent through this family to the North Korean people's hearts. "Oh Lord! Please forgive our sins of selfishness, parsimony, and apathy and quickly grant us the day that North and South Korea will reconcile and love each other."