Sponsor Stories
Warning: A non-numeric value encountered in /home4/eugeneb4/public_html/wp-content/themes/roots-master/templates/page-header.php on line 3

Warning: A non-numeric value encountered in /home4/eugeneb4/public_html/wp-content/themes/roots-master/templates/page-header.php on line 3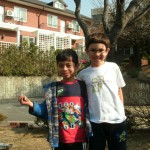 Eddie Pasternak, a 1st grade student at Seoul Foreign School
We had a chance to speak with the parents of Eddie Pasternak, a 1st grade student at Seoul Foreign School, who decided to dedicate his birthday party to patients at EugeneBell's Dongdaewon Tuberculosis Treatment Center. Eddie's parents, Susan and Ed, had this to say about their son's heartwarming generosity:
We learned of the Eugene Bell Foundation and the Dongdaewon Center through our teachers at Seoul Foreign School.  Every year, SFS teachers create an atmosphere of giving, and the children participate. Eddie is a native of San Francisco, California, and is in Mrs. Mary Ellen Lee's 1st grade class.  Eddie particularly enjoys his computer class, which is taught by Ms. Sarah Carpenter, who plays the piano. [Sarah Carpenter has also been a member of a EugeneBell delegation to North Korea.
Eddie particularly talked about seeing Ms. Carpenter's photos of patients at Dongdaewon. He said, "I feel sad when people are sick." On his own, he said that he wanted his friends who were coming to his birthday party to give money to help pay for medication for Dongdaewon patients, instead of bringing him gifts.  On the invitation, we simply said, "Please bring the gift of your friendship and please offer a donation to Dongdaewon instead of bringing gifts."  He then greeted everyone at the door, and the kids placed their donation in a box. Eddie later delivered the donations to Ms. Carpenter.  Eddie's best friend from school, Tejas, actually made his donation with his own money that he had saved, not his parents'.
The reaction was lovely, the kids were very happy to participate.  An additional benefit was the relief we heard from a number of other parents, who said that they didn't have to scurry around shopping for gifts.  It was a relaxed and giving atmosphere.
Eddie would like to say the following to those receiving treatment at Dongdaewon:  "I hope you're feeling better.  If you're not feeling good, and you take medication, and feel better, this might make you feel happy."
Parents Start a birthday campaign with your child. Click Here