Sponsor Stories
Warning: A non-numeric value encountered in /home4/eugeneb4/public_html/wp-content/themes/roots-master/templates/page-header.php on line 3

Warning: A non-numeric value encountered in /home4/eugeneb4/public_html/wp-content/themes/roots-master/templates/page-header.php on line 3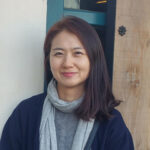 Hyejin Kim, Patient Sponsor
"Hoping for Continued Support to Patients in North Korea"
My name is Hyejin Kim. I served as office coordinator in the Eugene Bell Foundation's US office in the late 2000s and with the publicity team in the Korea office for a total of six years. As a mother of two children and a EugeneBell donor, I'm grateful to have the opportunity to continue helping this work. I find it amazing that the Eugene Bell Foundation is able to continue doing this hard work.
One of my duties at EugeneBell was to edit video clips that EugeneBell delegations took in North Korea. EugeneBell delegations visit multidrug-resistant tuberculosis centers twice a year. Delegations meet many patients to monitor treatment progress, and check the conditions of the treatment centers. Since the members took many video clips, I had to edit the videos. After each delegation's visit, I was swamped with work. I had to deal with other duties during the daytime, and I watched many video clips after my colleagues left the office in the evening.
In spite of the short conversations in the video clips, I could understand the patients' pain and difficulties in living with TB. I remember I cried a lot while watching the videos. I could not forget EugeneBell, because I learned about the patients through my work. I remember one of the patients who suffered severely but improved in six months after taking the medications for MDR-TB. I couldn't help but be moved when I saw people like this patient who looked hopeless at first but were cured and smiled brightly as they prepared to go back to their homes.
EugeneBell's work in North Korea amazes me. I really believe that EugeneBell is exceptional because its delegations meet patients, collect sputum samples, provide each patient with medications, while working closely with North Korean doctors. As far as I know, EugeneBell is the most effective and transparent organization when it comes to providing support for TB patients in North Korea.
Many other organizations provide various goods to North Korea. Because EugeneBell has helped North Korea consistently and faithfully since 1995, representatives of the Ministry of Health, doctors, and patients in North Korea have confidence in EugeneBell and respect it as a partner. Relationships of this kind are difficult to create. Therefore, more contributions are needed so that EugeneBell can help more TB patients in North Korea.
TB treatment, especially for MDR-TB patients, is very expensive. Because TB is the most serious contagious disease in North Korea, I believe it is urgent for us to treat as many patients as possible. Unification might not be that far away. Increasing support so that tuberculosis can be eradicated should be a priority as Korea looks forward to unification.
My husband and I own a small bed and breakfast in Jeju Island, Korea. I began making contributions to EugeneBell from our first earnings. I worked in the EugeneBell office in the past, and I'm still working for EugeneBell in Jeju Island. My donations save lives in North Korea.
When I receive my patient's treatment progress report every six months, I feel good because I know EugeneBell is insuring that the commitment I made to my patient is being fulfilled. I hope that more people will become donors so that they can also experience fond memories of helping MDR-TB patients in North Korea.