Sponsor Stories
Warning: A non-numeric value encountered in /home4/eugeneb4/public_html/wp-content/themes/roots-master/templates/page-header.php on line 3

Warning: A non-numeric value encountered in /home4/eugeneb4/public_html/wp-content/themes/roots-master/templates/page-header.php on line 3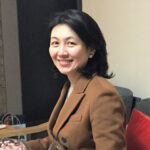 Jiyoung Jeon, Patient Sponsor
"Giving in the Name of Our Lord"
My name is Jiyoung Jeon. I have supported the work of the Eugene Bell Foundation for seven years. I am so grateful for this opportunity to share my experience with EugeneBell.
In the spring of 2007, I learned about EugeneBell through a presentation Dr. Linton gave at our church. From his presentation, I realized that providing treatment to TB patients in North Korea was extremely important. I really wanted to help expand God's kingdom, and I was very impressed in the way that EugeneBell was serving God. But I soon forgot about it because I devoted myself to my studies at that time.
While working as the curator of an art gallery, I prayed about donating some of my income to an organization which needed the most help. I thought of EugeneBell and decided to begin making donations.
One of my best memories of EugeneBell is when I first received my patient's treatment progress report, which had a picture of my patient smiling while holding a box of medicine. Seeing my name on the report made me happy, because I realized the difference that my contribution to EugeneBell had made in the life of a patient.
After resigning my position, I decided to move to Jeju Island. At first, I thought that I would focus on my personal interests and stop making donations to EugeneBell. I knew that this decision would mean that I would not be able to help TB patients in North Korea. So I notified EugeneBell that I would temporarily stop making donations.
When I resigned my position, I received a severance payment that was larger than I had anticipated, so I decided to give part of it to EugeneBell. I thank God for blessing me so that I could continue making donations to EugeneBell.
Now I am on sabbatical at a Christian mission center on Jeju Island, which gives me time to pray that God will protect and help EugeneBell in this important work. I would encourage you to join with me in supporting the work of the Eugene Bell Foundation.
Finally, I would like to share this blessing from the Third Epistle of John 1:2 with EugeneBell and our donors:
"I pray that you may enjoy good health
and that all may go well with you,
even as your soul is getting along well. (III John 1:2 NIV)"