Sponsor Stories
Warning: A non-numeric value encountered in /home4/eugeneb4/public_html/wp-content/themes/roots-master/templates/page-header.php on line 3

Warning: A non-numeric value encountered in /home4/eugeneb4/public_html/wp-content/themes/roots-master/templates/page-header.php on line 3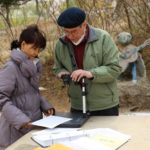 Maria Cho, Patient Sponsor , Spring 2015 Delegation
Sponsoring a Multidrug-Resistant Tuberculosis Patient in North Korea
When I visited the Democratic People's Republic of Korea (North Korea) with the Eugene Bell Foundation this spring (2015) I witnessed first-hand the 'trust-system' the Foundation has established and what has been accomplished so far.
EugeneBell has succeeded in building a transparent and effective program for treating multidrug-resistant tuberculosis patients; tuberculosis sufferers who would otherwise die without treatment. Educating patients, training local caregivers and close cooperation with medical authorities have resulted in good treatment outcomes.
I saw patients who couldn't quit smiling at having been cured from this deadly disease while others who had despaired of life, gain renewed courage. In witnessing these changes I found new hope and courage welling up in my own heart at well.
North Korean authorities were highly cooperative and the medical staffs at the twelve multidrug-resistant tuberculosis centers we visited were eager to learn how to improve their treatment programs. I saw that they were all thankful for the help provided through EugeneBell.
There is still a lot of work to do. When newly registered patients were asked about their family medical histories, many patients responded that they have no tuberculosis sufferers in their families. One patient whose disease was so far advanced that he couldn't even walk answered that no one else in his family has TB. When we asked "who looks after you?" he replied that it was his son. Tests showed that his son, who insisted that he was fine, also had multidrug-resistant tuberculosis.
Multidrug-resistant tuberculosis is expensive to treat. I was inspired by how EugeneBell tries to economize on every penny spent in order to treat one more patient.
I hope that more people can experience what I have and will join EugeneBell so that this treatment program can reach more patients. Hopefully one day multidrug-resistant tuberculosis can be eradicated from North Korea. Lastly, I would like to thank EugeneBell for all of its hard work.