Pharmacist  Juryon Kim, Yangdok MDR-TB Center
We had the chance to speak with Juryon Kim, the pharmacist at the Yangdok MDR-TB Center, who early on chose tuberculosis treatment as her life's mission.
Eugene Bell Foundation's (EBF) partnership with the Ministry of Public Health (MOPH) in North Korea is critical to the amazing success we are having saving lives of patients suffering from multidrug-resistant tuberculosis.   The EBF program is generating world class cure rates. In 2014, EBF realized 76% cure rates in part thanks to the support of doctors, nurses and staff like JuryonKim.   With MOPH's partnership and the continued support from our generous sponsors, we expect these cure rates to climb even higher in the years to come.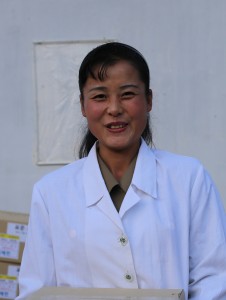 "It's a joy to see patients recover and return home to their families"
Please introduce yourself
Hello, my name is Juryon Kim, I am 23 years old. I am currently working as the pharmacist at the Yangdok MDR-TB Center.
How long have you been working here?
I worked on clinical studies when I was in school. After I finished my studies, I came to this treatment center and have been working here for two years.
Did your parents object to you working here?
My father is a social worker, so he pushed me to also take a job that helps society.
Are you worried about getting infected by one of your patients?
To be honest, I am scared that I will become infected with tuberculosis. I still haven't gotten married, and all of the people I spend time with are tuberculosis patients. Thinking about it makes me scared.
But every time I feel worried, I remind myself that I am a healthcare worker.
Many people are isolated from their communities and their families when they get tuberculosis. When I think about their situation, my own concerns fade away and it gets easier to continue working here.
What is the hardest part of your job and what is the most rewarding?
It is wonderful to see patients who have been treated here recover and go back to their families. The hardest part is when a patient dies. As a healthcare worker, I feel deeply responsible for those patients, and it hurts to see them go.
What are your future plans?
I want to continue working hard until all of my patients recover. I also want to thank the EugeneBell donors who have played such an active role in curing my patients.
The Eugene Bell Foundation is a faith based charitable organization committed to ending unnecessary deaths from multidrug-resistant tuberculosis in North Korea. Visit http://www.eugene-bell.org to learn more and to donate. Together we can save lives, restore families and instill hope directly to the hard to reach people of North Korea.